Have you ever thought about selling used underwear online to make money?
Before just a few days ago, I certainly had not. This coming from a girl who comes up with a new way to make money every other day and recently wrote a massive article covering over 101 different side hustle ideas for women. Let me tell you, of all of those 101 side hustle ideas, selling dirty undies online was not one of them.
But as a woman who is also all about women pursuing entrepreneurship and making money online, I'd be lying if I told you it didn't pique my interest when the idea of selling used underwear online was suggested to me. I mean, who am I to judge — I did also write a lengthy post about how to make money on OnlyFans. And whether I'm judging or not, the OnlyFans creators are over there making bank!
But I digress. Selling underwear online for profit to total strangers is apparently "a thing". Just the same as selling pictures of your feet, being paid as others watch you eat, or doing who knows what for your "fans" on OnlyFans. The fact is that sex sells — even though something so seemingly unassuming as selling used underwear.
Why would someone want to buy your used underwear?
I'm no expert in the selling of used underwear, but I can only imagine why men (I'm assuming is the majority consumer base) would want to buy the used underwear or the worn underwear of a lady.
According to one Quora user "It's is about the scent. The aroma/pheromones create a brain response that is sexually arousing. I think it's also the taboo and submissiveness. The person selling them knows they have power over me."
Um, ok.
Why would someone want to sell their used underwear?
Is there some sort of arousing reason why someone would want to sell their used underwear online to a stranger? Perhaps. But I'm gonna go out on a limb here and say that many people who choose to sell their worn underwear online are doing it for the money.
RELATED: How To Choose A Perfectly Profitable Blog Niche That Actually Makes Lot's Of Money
Selling dirty panties online is a side hustle if your want to make what's seemingly easy money online — that is if your morals are aligned with selling dirty knickers to some potentially dirty men.
If this just doesn't feel right for you, for sure, stay far and clear from this idea. Especially when there are SO many different ways to make money these days. But if you don't take issue with this kind of income source here are some of the upsides of this unconventional venture.
Easy to start up.
Low investment cost.
Low over head costs.
Can remain anonymous.
Great side hustle as youre working a full time job or another business idea.
Future potential to make really big bucks if you become a successfull dirty panty seller (as in the panties are dirty, not neccerly you ????).
How much money can you make selling worn underwear online?
Selling used underwear online can earn you as much as $20 to $100+ according to Panty Selling School (I know, that's also "a thing"). Sellers who just want some fast cash may be able to get $20 for each set of used underpants that they sell. And if you can manage to sell say one pair of panties Monday through Friday, then boom, that's $100 for the week (not including shipping and the costs of the actual panties).
RELATED: How To Set Up A Self Hosted Blog In 10 Minutes With WordPress And Bluehost Tutorial
The earning potential of most people however pales in comparison to what many famous performers bring home each month selling used underwear— some earning upwards of three thousand dollars per month.
From a buyer's perspective, when asked what's the most he'd ever paid for a pair of dirty knickers, a Vice interviewee said "I think the most I've paid is about £550. But to be honest, I would be willing to pay any amount for a very nice dirty pair."
Is it safe to sell my dirty underwear online?
Safety seems like a reasonable concern to consider if you're thinking about selling used underwear online. Physical safety of course, but also perhaps the safety of your reputation.
The good thing about selling anything online is that you don't need to deal face to face with people. Considering that selling used women's lingerie online is risky enough as it is, but imagine selling to a client who just wants to chat you up… I can only imagine that experience would be just entirley too much.
Yes, selling your own underwear is a little startling at first but it really doesn't seem to be dangerous if you do not meet up with someone in person. All you have to do is take high-quality photos so that buyers can see exactly what is what.
Additionally, you can choose if you even want to be part of the images or not. With regards to this point, however, I would imagine the buyers perhaps enjoy seeing who was wearing the used panties they're splurging on.
Is it legal To Sell Used Panties?
I am not a lawyer and I certainly don't know the law in this area of business.
With that said, I don't imagine that selling old used dirty panties is illegal. Although, because it could certainly be perceived as sexually related, I would say definitely do your research for your own local jurisdiction.
Pros Of Selling Used Underwear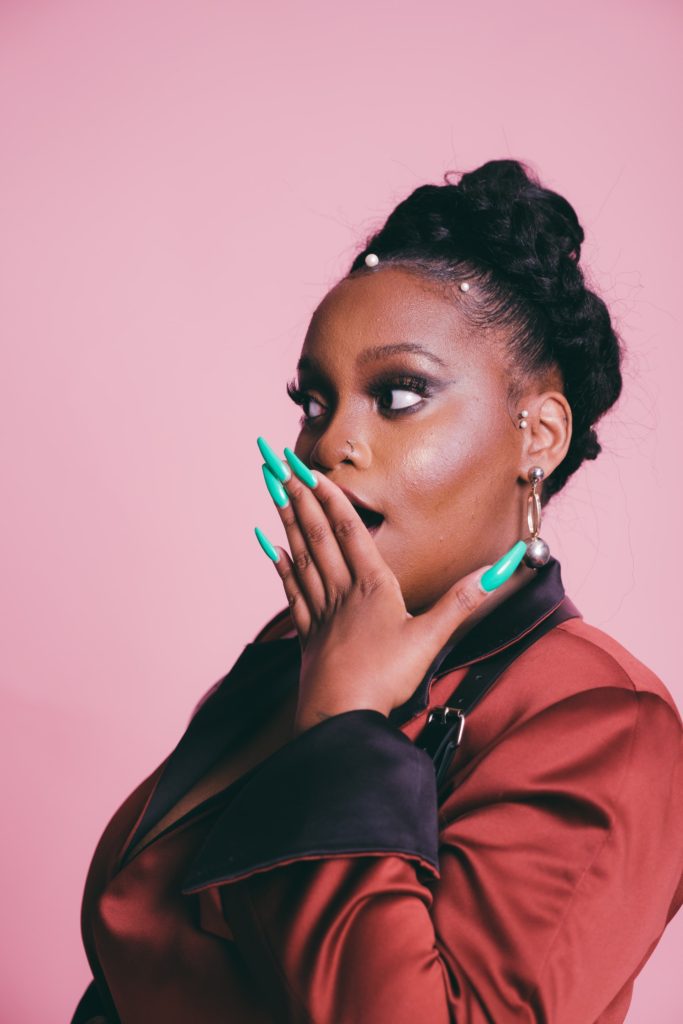 It's Easy
Selling used underwear seems like a pretty easy gig if you ask me. I mean, you already wear underwear every day anyway. And so if someone wants to take them off your hands and save you the trouble of laundering them… If it's aligned with your personal morals and you think it's something you wouldn't mind doing… heck, who is anyone else to judge.
It's time flexible
While if you'll be selling dirty underwear you'll need to "work the undies" from 9-5 (if you know what I mean) (omg, cringe)… Once the underwear has been well worn, it doesn't take much time or effort to take them off, throw them in a box, and ship them off to the buyer.
You Can Do It With Other Side-Hustles
As I mentioned before, I'm a gal that's all about multiple streams of income. I really like the fact that this is a gig that you can do as you're working on other projects at the same time.
If you're interested in other side hustle ideas for women or business ideas for women that can earn you some extra money while you're selling your dirty panties (or not)… be sure to check out this list of 101 side hustle ideas for women I put together.
Cons Of Selling Used Underwear
Sales are inconsistent
As an online seller of other things (that are not at all related to dirty undies), the truth is that sometimes online sales, in general, can be inconsistent. I would imagine especially so with such a niche item.
Sure there are many stories of ladies cashing in big time by selling their underwear online, but I'd be willing to bet that these stories aren't as common (I could be totally wrong though). What I'm really saying though is that I don't know how dependable this is as a standalone idea for someone starting this from scratch.
It's a bit uncomfortable
As comfortable as one might be with sex and their body, I think to a normal person, selling your dirty underwear online to a total stranger is at the very least a bit strange. It might even be downright uncomfortable to muster up the courage to package up a pair of dirty underwear, march them into your local post office, and hand them over to the nice lady sitting behind the counter with a smile.
Could be bad for your reputation
For the sake of my own reputation, let me preface this by saying this… I do not personally sell my dirty underwear online to make money. Although I don't at all judge anyone who does. Additionally, I totally endorse women making money online and making money in all kinds of creative ways.
One thing to consider however is that many people perhaps are not as liberal in their way of thinking. And selling dirty panties online certainly sounds like something that might ruffle a few feathers of your friends, family, colleagues, or anyone who ever found about it.
If this money-making idea is intriguing to you, consider how you can sell your worn panties online anonymously without showing your face. You definitely don't want your attempt at trying to make some quick money online to come back to bite you in the future.
Selling Used Underwear on Craiglist
Among the crazy things you can buy and sell on Craigslist afterall include (but are not limited to) belly button lint, a heart-shaped potato, or perhaps a sofa made of stone. And so it comes as no surprise that you can buy and sell dirty underwear on Craiglist.
In an anonymous Glamour story, one college students share about how in a lucrative month, she made $1,700 selling her lightly used underwear and socks on Craigslist, cashing out at $120 per pair.
During my own "investigation" however (if you want to call it that), no results were shown when I typed in "used underwear" or "dirty panties" on Craiglist. Perhaps Craigslist is cracking down on this practice?
If Craigslist is a troublesome platform for this line of business, it's a good thing that there are plenty of platforms created for the sole purpose of buying and selling used undies…
On selling worn panties on Ebay
In short, selling dirty panties is not allowed per the eBay TOS, as outlined in their Used Clothing Policy;
"Used underwear and socks are not allowed, even if they are clean. Examples include boxer shorts, panties, briefs, diapers, and athletic supporters. Bras are not considered underwear."
The Best Places to Sell Used Underwear
As unconventional as it may seem, buying and selling worn undies on the internet has enough of a market to inspire the advent of platforms dedicated to this kink. These online marketplaces make it easy for people to buy and sell dirty underwear freely.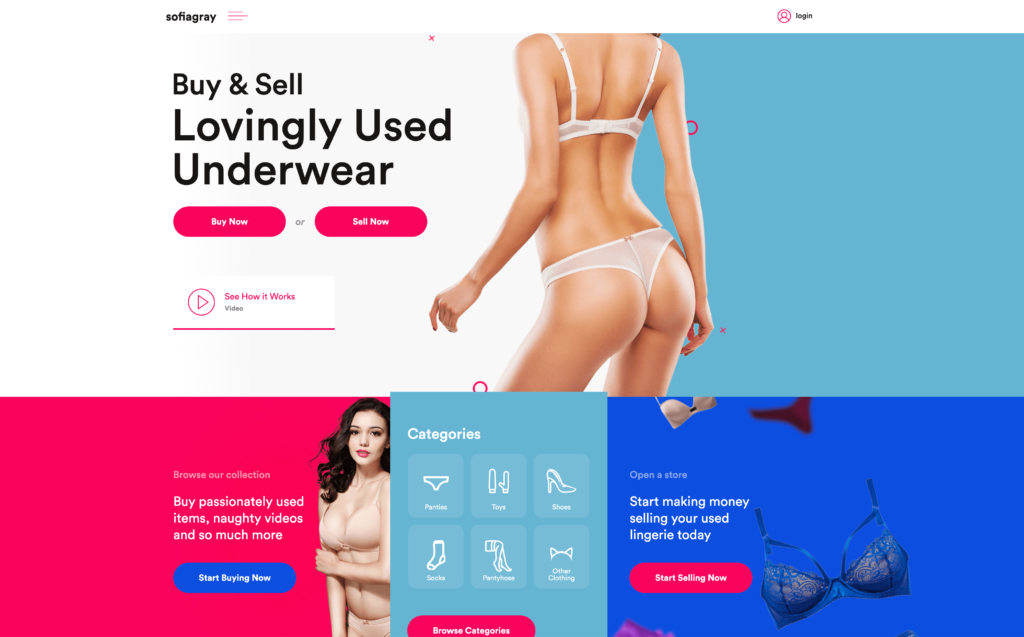 About: SofiaGray is the largest and safest marketplace for the buying and selling of used underwear. Above all else, safety and anonymity is the greatest concern of this adult site. SofiaGray.com ensures that all buyers, sellers, and even casual browsers of Sofia Gray remain anonymous and secure every second of being on the website.
How it works: When you land on the home page of this panty selling platform, the design and interface are very straightforward and user-friendly for anyone looking to either buy used underwear or sell some used underwear to make some cash. The site also has other offerings such as socks, toys, shoes, pantyhose, and other types of clothing (presumably all used of course).
A look at their home page featured sellers reveals a bevy of curvy women scantily clad in their very sexy undergarments — underneath, a link to their individual panty store. I clicked through to explore one such shop of Madam Monroe who entices her shopper with "smelly panties…. can I satisfy your imagination with my personal fragrances?" Ummm… you better make that money Madam Monroe ????
Cost to sell used underwear: To get started selling dirty underwear on SofiaGray is not free. $24.99 gets you 3 months of unlimited selling and no commission. $62.49 will buy you a 12-month package of unlimited selling and no commission.
I reached out to Sofia Gray team to get a discount for my readers interested in trying thier platfom. Use this link and the code BOMBSHELL at checkout to recieve 10% off a new seller subscription.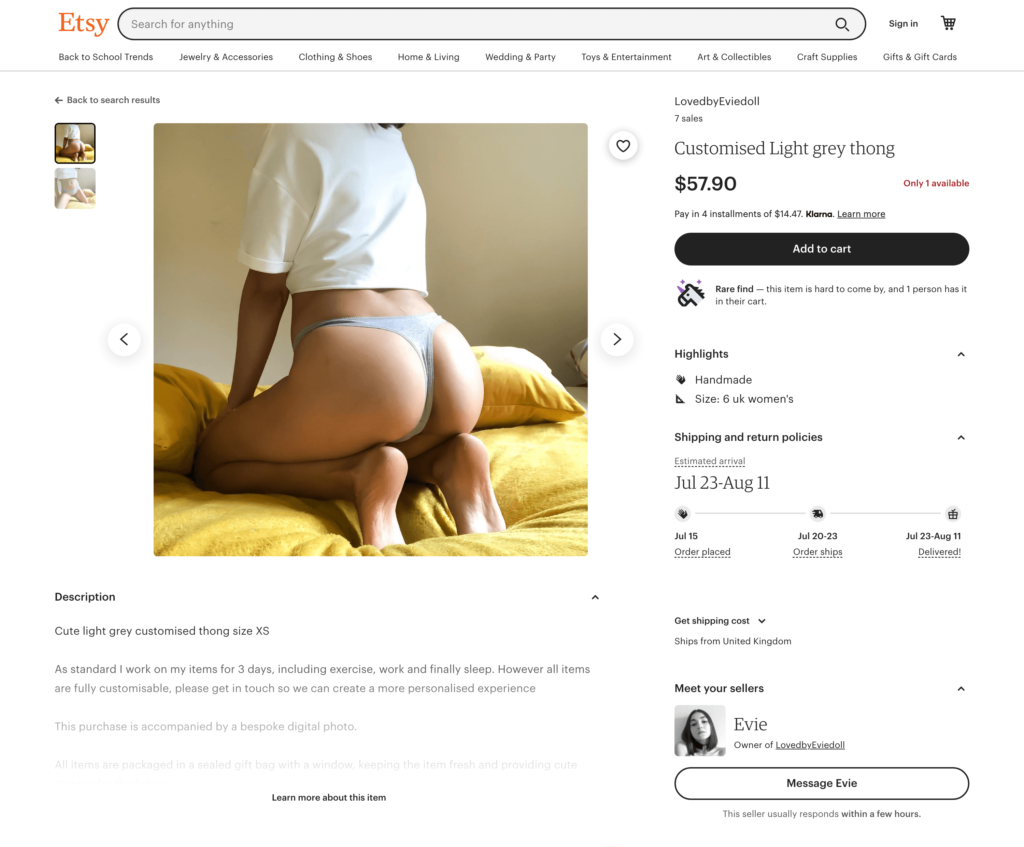 About: As you may know, Etsy is an e-commerce marketplace focused on promoting handmade or vintage items and craft supplies by individual sellers. Amongst the most popular Etsy users are moms, teenage girls, and artsy DIY fanatics.
All this time I thought Etsy was an innocent place where I can shop printables and customized coffee mugs with clever quotes. Apparently, there's an Etsy black market y'all — and they over there selling dirty panties and socks, oh my.
How it works: I put on my blue-light-blocking sherlock glasses and headed over to Etsy.com in search of something a little kinker than vision board printables (a product I sell in my own Etsy shop). I typed in "dirty panties" into the search box, and wouldn't you know… 458 results popped up ranging in price from $20 to $35.
One dirty panty seller on Etsy with 6 confirmed sales, sells worn underwear for as much as $57.87 for each pair. In the description, she notes "as standard I work on my items for 3 days, including exercise, work and finally sleep. However all items are fully customizable, please get in touch so we can create a more personalized experience."
Cost to sell worn underwear: As an Etsy seller myself, I know that Etsy does charge a minimal fee to list on their platform. It costs $0.20 to publish a listing to the marketplace. A listing lasts for four months or until the item is sold. Once an item sells, there is a 5% transaction fee on the sale price (including the shipping price you set).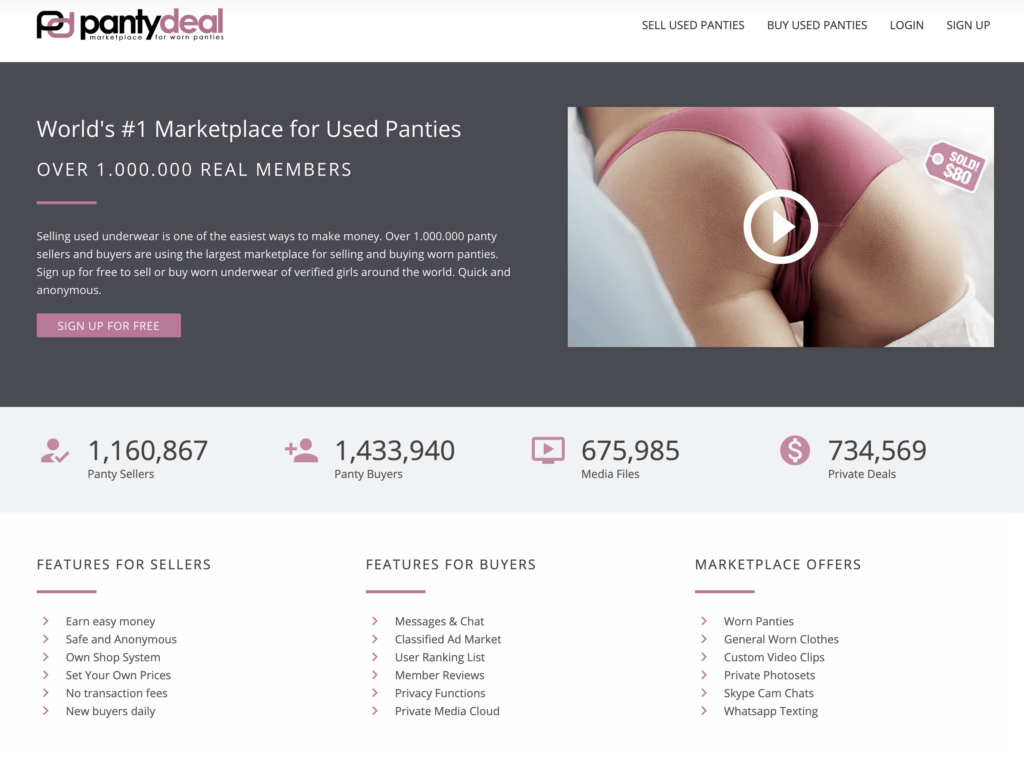 About: Paul Richter was at a party when he overheard young ladies gossiping about making easy money selling their worn panties online. He listened in as they discussed just how much demand there is around the world for used underwear, and just like that, an idea was born.
Founded in 2012 and with over 1.000.000 panty sellers and buyers using the platform, PantyDeal.com is one of the largest marketplaces for selling and buying worn panties.
How it works: Much like the aforementioned places to sell dirty panties, Panty Deal is a marketplace that allows sellers to list their items for sale on the platform for buyers to browse and shop. For sellers, PantyDeal promises some pretty impressive perks including the following.
Earn easy money
Safe and Anonymous
Own Shop System
Set Your Own Prices
No transaction fees
New buyers daily
After creating your profile, take photos of yourself in a pair of panties and upload these to your profile. You can choose whether to show your whole body or just a part of yourself – whatever you feel comfortable with. Include a detailed description of the product. Consider how long you will offer to wear them for, and whether you can do any activities in them that might create a more appealing scent, such as exercise.
Cost to sell dirty panties: You can register and get started selling dirty panties on PantyDeal absolutely free. Once you have an interested buyer, you can agree on the payment and shipping method that suits you. Receive your payment, wear the panties, put them in an envelope, and post them off. Easy.
About: OnlyFans is a content subscription service that allows independent content creators can earn money from users who subscribe to their content as "fans". The platform allows content creators to receive funding directly from their fans every month as well as one-time tips and the pay-per-view feature.
How it works: Although the platform is most known for the exchanging of content such as pictures and videos, you can also choose to monetize an OnlyFans account by selling used panties. If you're interested in learning more about how to make money online using this platform, check out my article on a beginner's guide on how to make money on OnlyFans.
Cost to sell dirty panties: To the best of my knowledge, as a content creator or seller on OnlyFans, it doesn't cost anything to have an account. As a consumer however the minimum subscription price is $4.99 per month and the maximum subscription price is $49.99 per month. Sellers can also choose to list free subscription offers.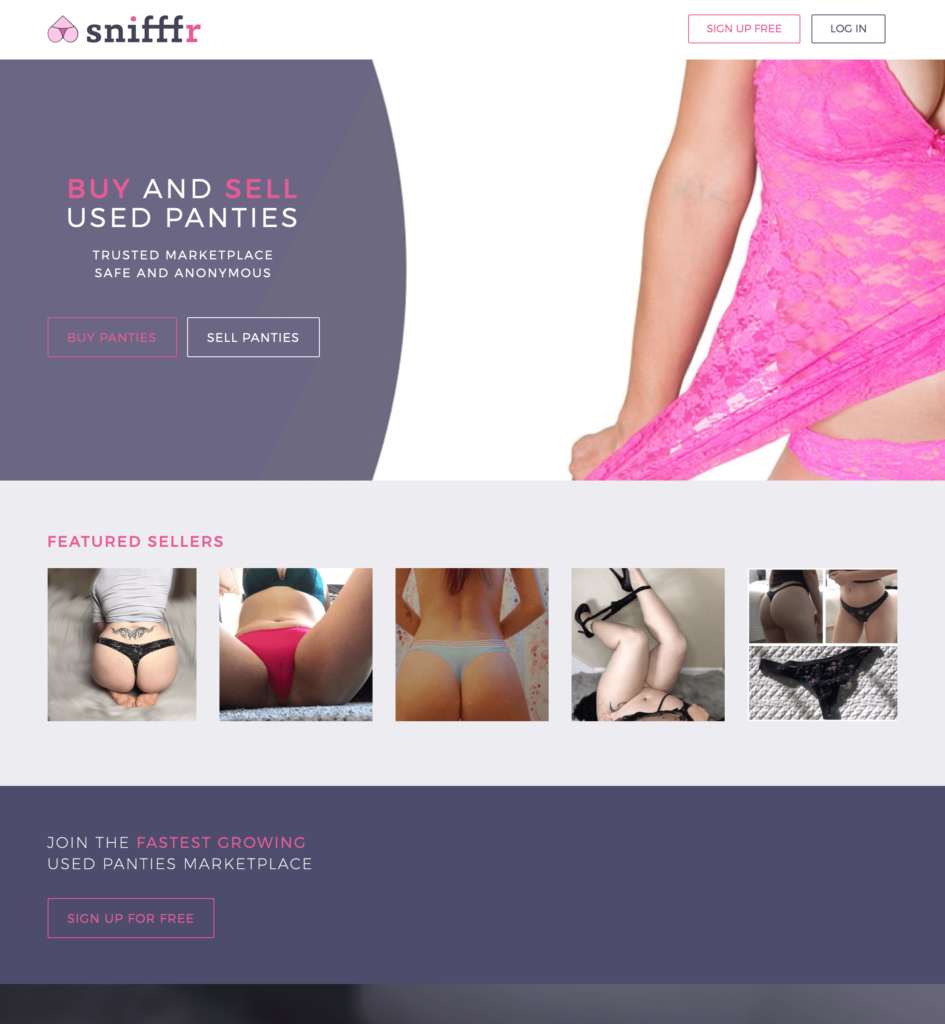 About: Snifffr is a safe place for you to get a whiff of that… I'll just leave it at that. Snifffr is a marketplace to buy and sell used panties anonymously.
How it works: Once you have an account with Snifffr, engage with buyers that you think will like you! Start chatting with them using our online chat functionality or private message. When they are ready to buy your underwear, arrange a method of payment and send them your panties. We suggest that the return address on the parcel is the same as the delivery address to remain anonymous. Be sure to receive your payment before shipping the underwear. snifffr does not get involved in the transaction.
Cost to sell dirty panties: This is another platform that makes it free to sign up! You only pay if you want to use the online chat and other features. Snifffr charges you a set fee. It doesn't matter how many times you transact, you will be charged the same amount. Please visit the pricing page for more information.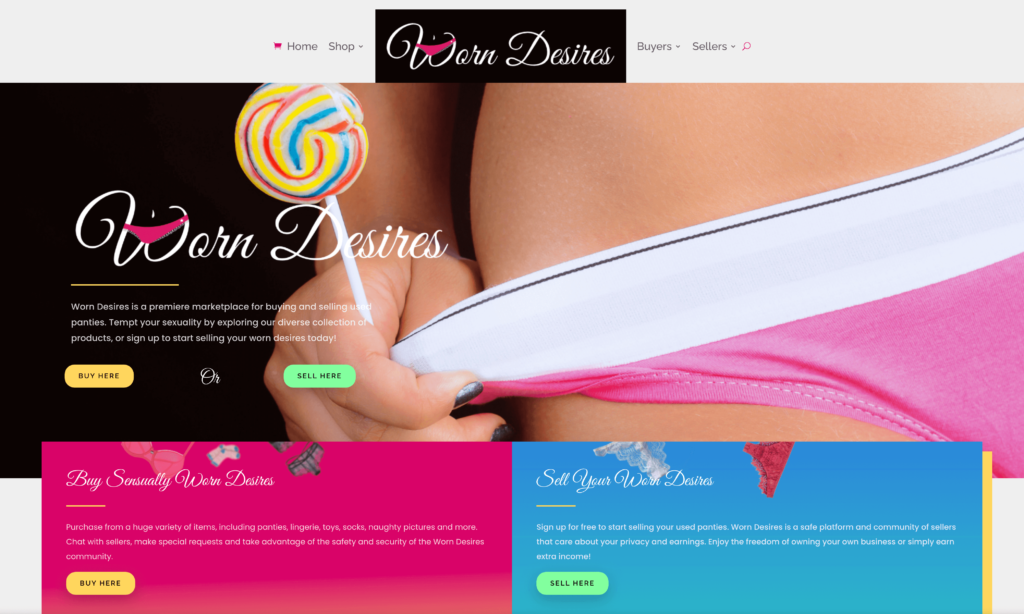 About: Worn Desires is the premier marketplace for buying and selling used panties. "Explore our collection, or start selling your own worn desires!" There are also different components to this site including one that, like only fans allows buyers to request adult videos from sellers who are willing to provide such a sexual fantasy.
How it works: List your worn items including socks, toys, and pantyhose. Capitalize on your sexuality. Creating your own store is low risk and high reward.
Cost to sell worn undies: Transactions are safe and we don't charge a monthly fee to sell. The buyers cover the cost of shipping and you make all the profits.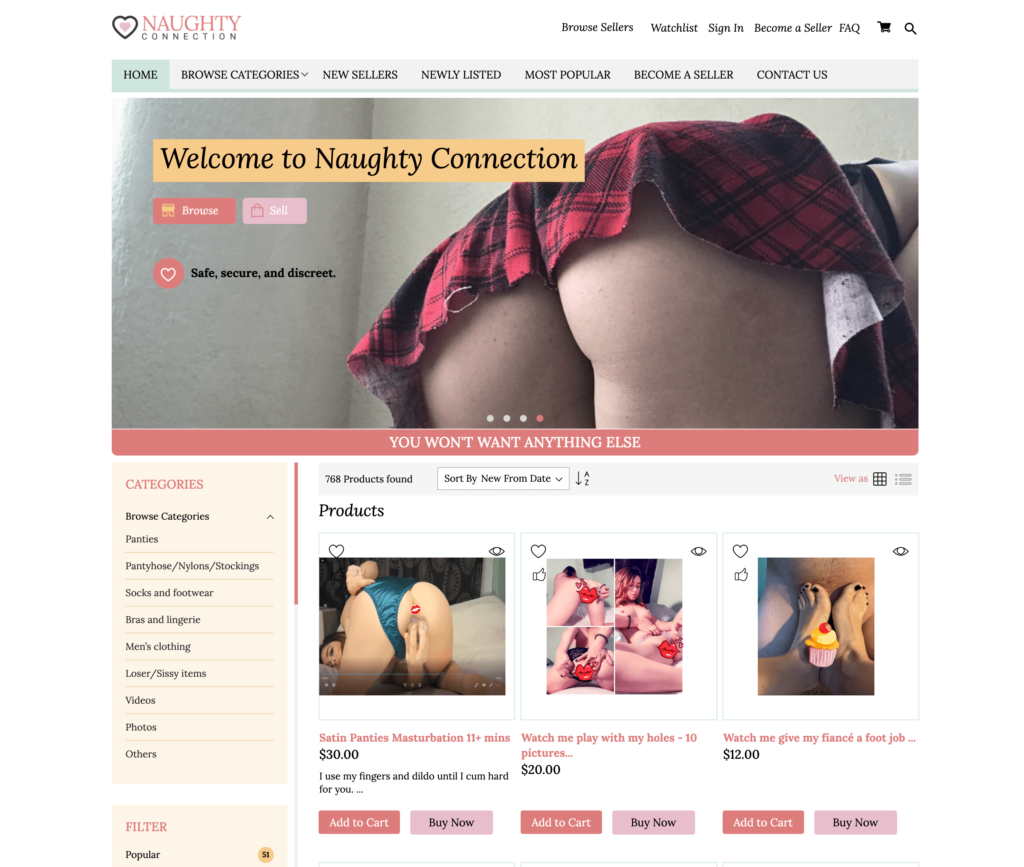 About: Naughty Connection is an online marketplace created to create privacy and security for everyone involved. We've designed this multi-vendor platform with both buyers and sellers of worn underwear in mind. Using Naughty Connection, it's easy to navigate and connect with others who share your fetish and desires.
What makes Naughty Connection claims to make them a bit different than the aforementioned platforms is that they boast a platform where buyers and sellers can intermingle professionally and securely.
"As I'm sure you're aware, many of our competitors rely greatly upon their sellers to handle shipping, logistics, and other sorts of middle-work. In some cases, this puts both the buyer and seller in danger and potential breach of privacy, as they must share their actual names & location. By solving this problem, we've found many more sellers have come to the marketplace without concern."
How it works: Naughty Connection is an exclusive adult marketplace allowing you to sell used panties, used clothes, and other items completely safely. We are a community where members explore their sexuality with total freedom – and where you can generate some extra income! Our range of features means that every transaction is smooth, safe, and simple.
Cost to sell worn undies: Register for free today to start selling on the marketplace. Have your own online store, advertise items, set your own prices, and chat with buyers.
About: Sexy Delights is a relatively new website aimed at anyone wishing to purchase used and worn pants, underwear, and clothing, as well as browse our photo galleries.
How it works: It's not exactly clear how this particular site operates to help buyers and sellers of worn underwear connect.
Cost to sell worn undies: According to their website "for a small modest fee" you can earn income from selling your underwear, tights, pants, and bras to a private and anonymous marketplace. Although I could not find anywhere on their website what that modest fee is.
Conclusion
Selling used underwear is one of the most unique ideas I've come across when it comes to making money online. With some creativity and hard work, you could be on your way to earning thousands from selling a product that there is certainly a niche demand for.
SofiaGray.com has been doing this successfully as they specialize in connecting buyers and sellers of used panties. If you'd like a try SofiaGray.com for selling your used panties, use this link and the code BOMBSHELL at checkout to recieve 10% off a new seller subscription.
If you're interested in other side hustle ideas for women that can earn you some extra money be sure to check out this list of 101 side hustle ideas for women.