If you're interested in setting up a self-hosted blog in 2020, the best way to set up a blog is with WordPress and Bluehost. This self-hosted blog tutorial will guide you step by step through Bluehost's super simple one-click WordPress blog installation so you can easily set up your own self-hosted blog from scratch in just 10 minutes.
If you're intimidated by tech or just getting to understand what the heck self-hosted, WordPress and Bluehost even mean — worry not, Bombshell! This guide is perfect for beginner bloggers and WordPress newbies alike.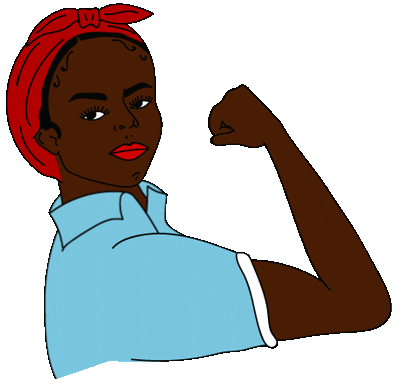 The truth is, blogging is perhaps one of the best opportunities for women to start for many reasons. For one thing, starting a blog allows you to share your brilliant ideas with the world. But what makes blogging even more exciting, is that blogging is an incredible opportunity to make thousands of dollars per month in passive income online!
That's why I'm SO passionate about sharing this incredible opportunity with women everywhere.
With that said, I've personally negotiated a special discount for Bombshell readers so you can start a blog for cheap! Start your own self-hosted blog today with Bluehost for 50% off. You'll also get a domain name for your new blog absolutely free!
Starting a blog can enable you to work from home, travel when you want, and make multiples streams of real passive income online. And in a short period of time, I was able to quickly recoup the money I spent on starting a blog like the one you're on right now or my lifestyle blog for women, (which btw is chump change).
You can make money blogging about literally anything. Beauty, cats, gardening, nursing, couponing — seriously, anything. And if I can do it while juggling a full-time job (I've since quit that job), and not knowing what the heck I was doing half that time, so can you!
In this guide, I'm going to hold your hand through the entire set up process and ensure you escape totally unscathed.
By the end of this tutorial, you'll have your new blog completely set up and ready to go with the best blogging resources (that I personally use for all my websites) on the market today — WordPress and Bluehost.
If you haven't already, click here to start your own self hosted WordPress blog from scratch, and let's get into it!
Setting Up A Self Hosted Blog
Before we jump into the nitty-gritty, I think it's helpful to just clarify a few key terms for beginners so that we're all on the same page moving forward.
I've also included a graphic below for the visual learners. I hope you find it helpful.
What do you mean by a "self-hosted blog or website"?
A self-hosted blog or website means that you own your website and all of the content you create for that website. As opposed to website services like Squarespace, where the content is owned by that third party company. How you can monetize is also governed by that company.
Creating a self-hosted blog or website allows you unlimited capabilities to create any kind of website and own all of your hard work on your blog or website.
You may also notice that I use the terms blog and website interchangeably. When I mention "blog" or "website" or "blog website", each term means more or less the same exact thing.
What is Bluehost?
Bluehost is a popular and powerful web hosting company for WordPress blogs. This is the company I use and highly recommend.
What is WordPress?
Website and blogging platform where you create and post web content including images, videos, and blog post content.
Get it? Got it? Good. Start the process!
How To Set Up Self-Hosted WordPress Blog With Bluehost
If you prefer, follow along with the Bluehost video tutorial above. Or continue with written Bluehost tutorial below.
1. Select a Plan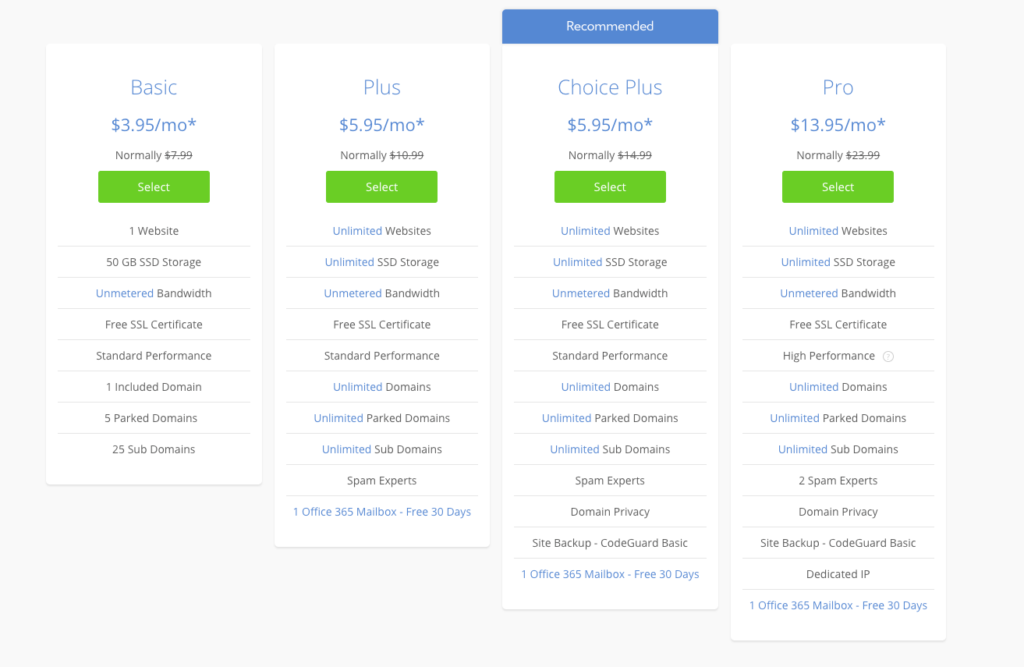 Select a Bluehost plan for your self hosted blog set up. If you're starting a new blog from scratch, and you want to bootstrap this thing, the Basic plan will suit you just fine. It's the plan I started with and you can always upgrade it in the future.
If you plan on setting up more than one blog or website go with the Plus plan. The Bluehost Plus plan and higher allows you to set up and an unlimited number of blogs and websites absolutely free under the same plan.
2. Register a Domain Name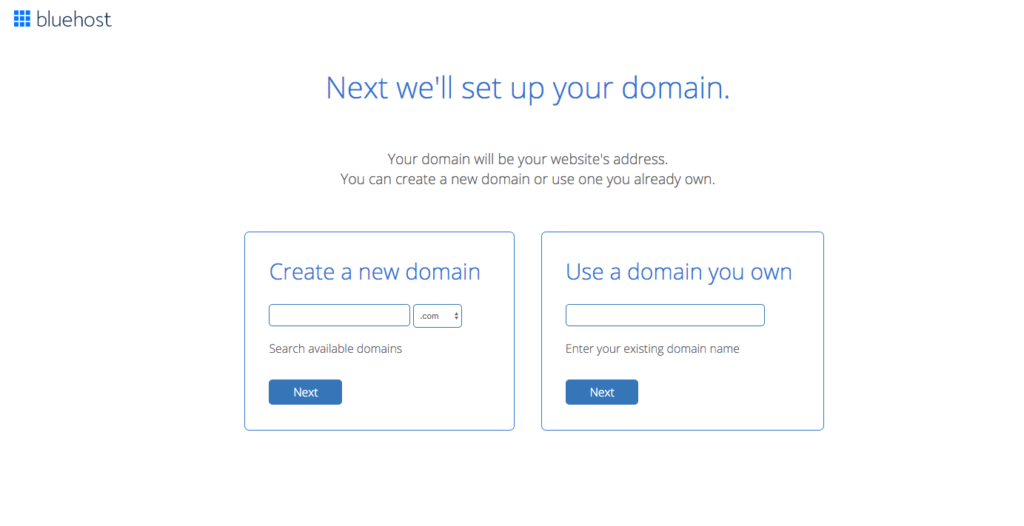 Register your free domain name by simply typing in the domain name you'd like for your new website.
If the domain name you want is available, proceed to the next step. If the domain name you want is not available you can skip this step and come back to it later.
If you already have a domain with another company like Namecheap or Godaddy, you can enter now or skip this step for later. With Bluehost, you can always add your domain name later or register a new one absolutely free!
3. Fill out Account Info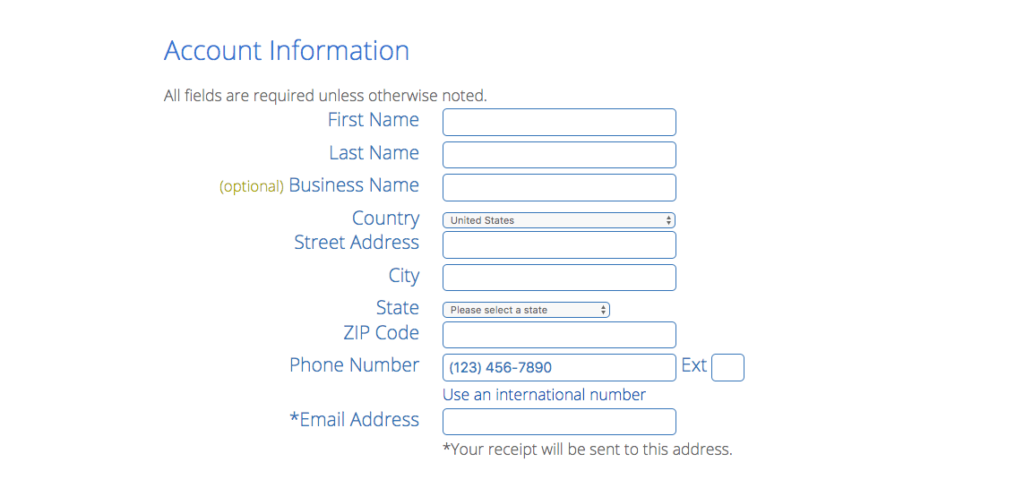 This step is pretty straightforward. Go ahead and fill in your personal account information for your new Bluehost account.
4. Payment Info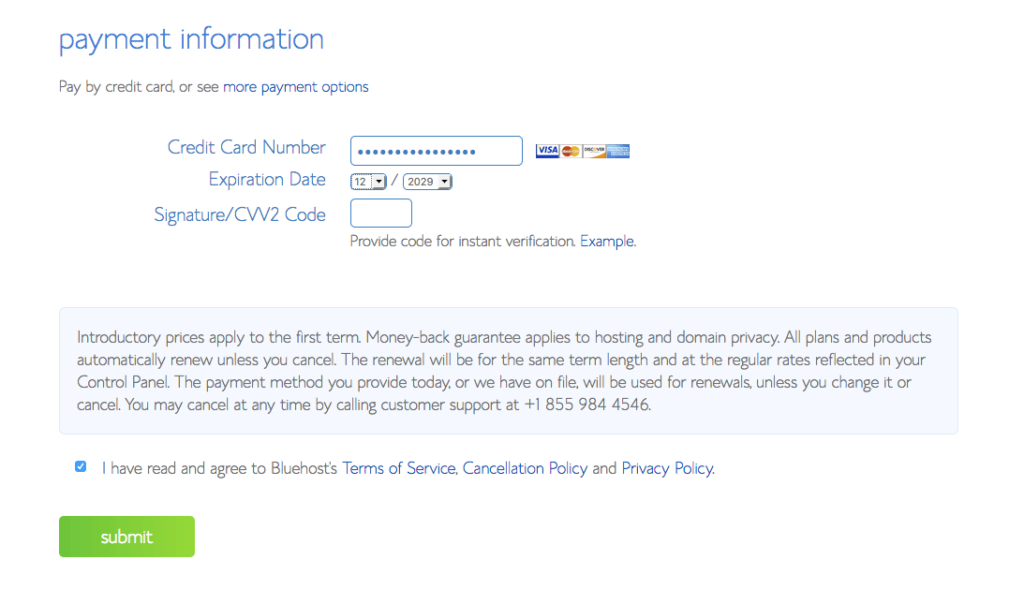 Enter the credit card or payment information you'd like to be billed for your self-hosted plan. Select more payment options if you wish to set up payment with PayPal.
5. Select Extras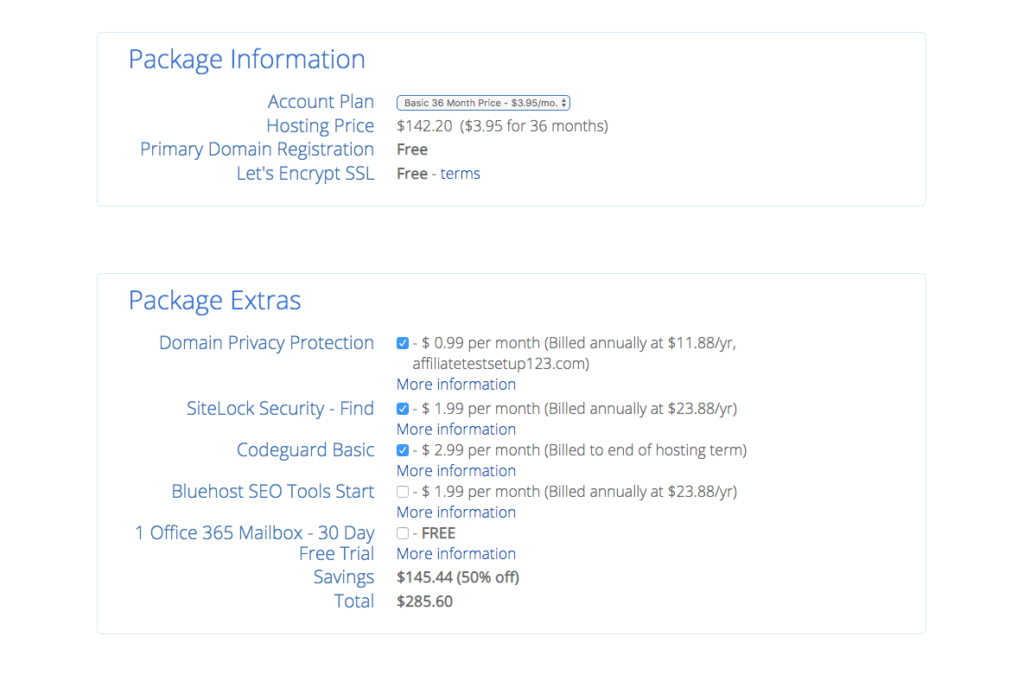 Extras are just that — extra. To set up a basic self-hosted WordPress blog with Bluehost, you really don't need any of the extra options that Bluehost offers. The extra options are nice to have, but definitely not necessary. Uncheck the boxes that you don't want.
One extra that may be interesting however is the Domain Privacy Protection. If you wish for your name not to be displayed as associated with your new website, select the Domain Privacy Protection option any your website owner will be listed as anonymous to the public.
6. Create Password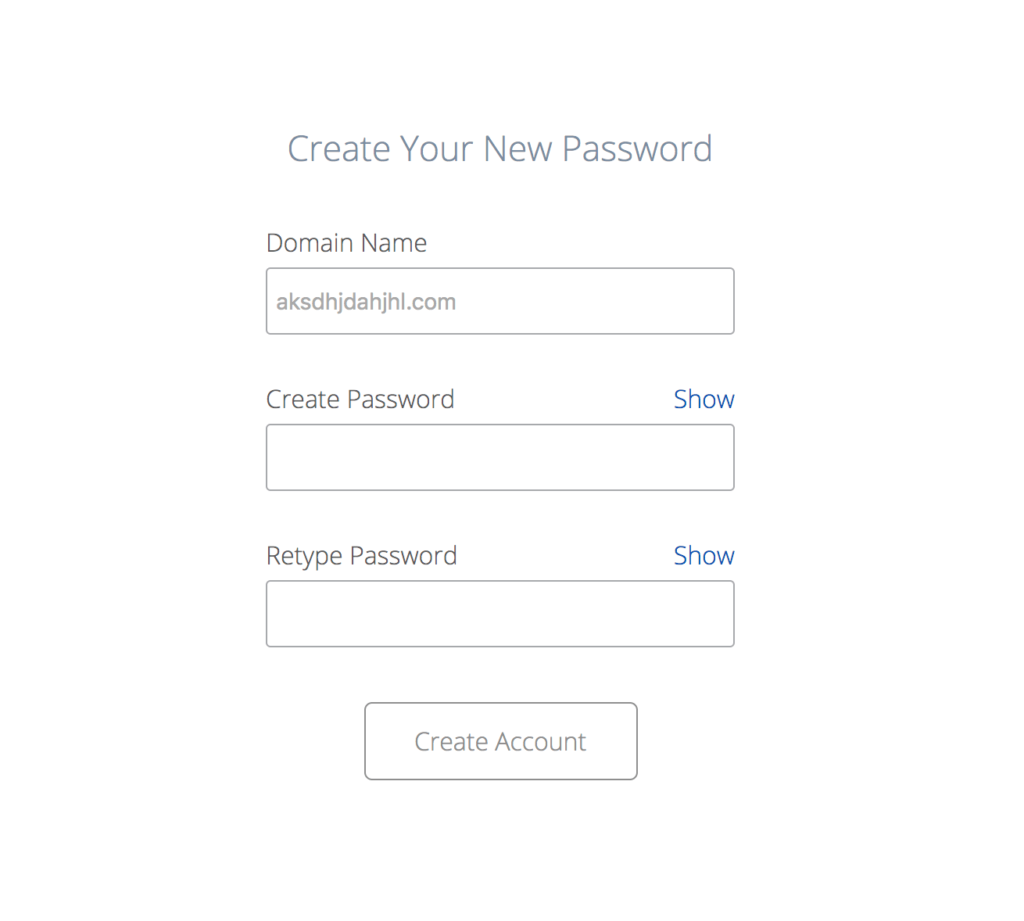 For the protection of your new blog website, it's super important that you create a password that can not be easily guessed or hacked. You can also set up a 2-step verification once your account is completed to be extra safe.
7. Login (this will trigger Bluehost's one-click WordPress Installation)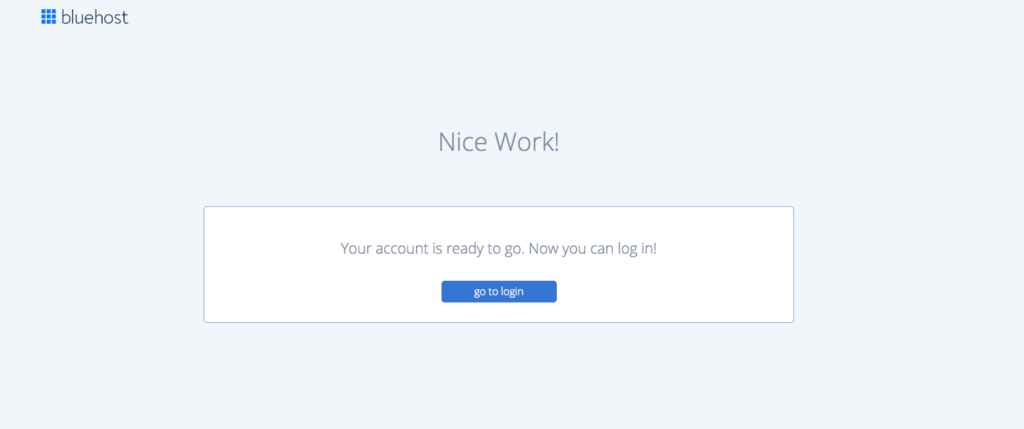 The next step in setting up your self hosted blog from scratch with Bluehost is installing WordPress.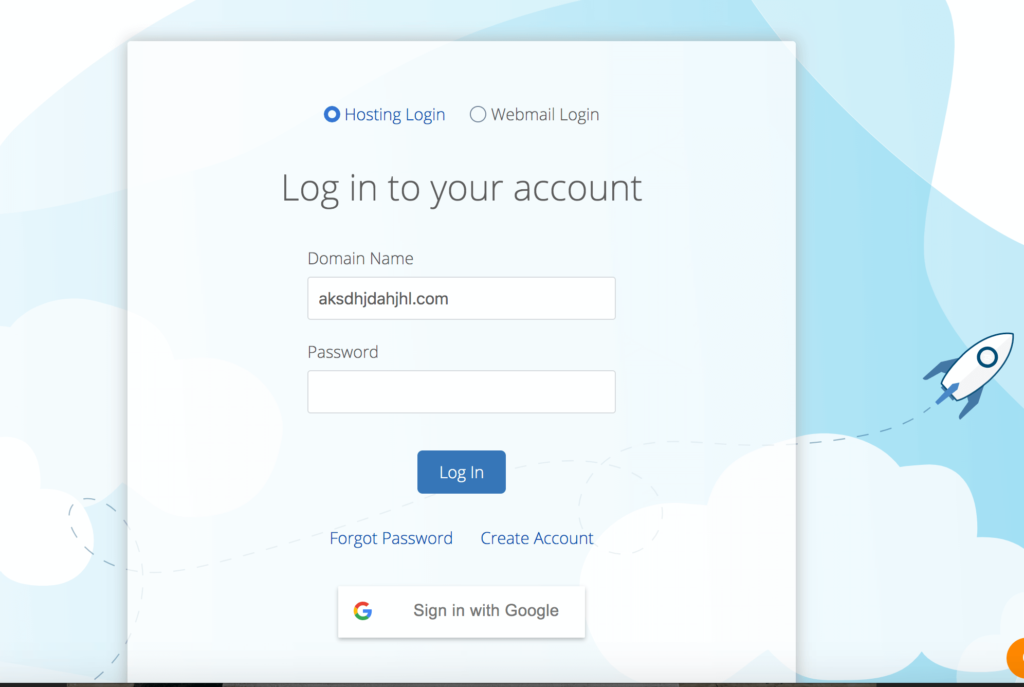 You will be prompted to log in with the account information you just set up for your Bluehost account. Logging in will trigger the one-click WordPress blog installation with Bluehost. Simple and easy right?
8. Name your Website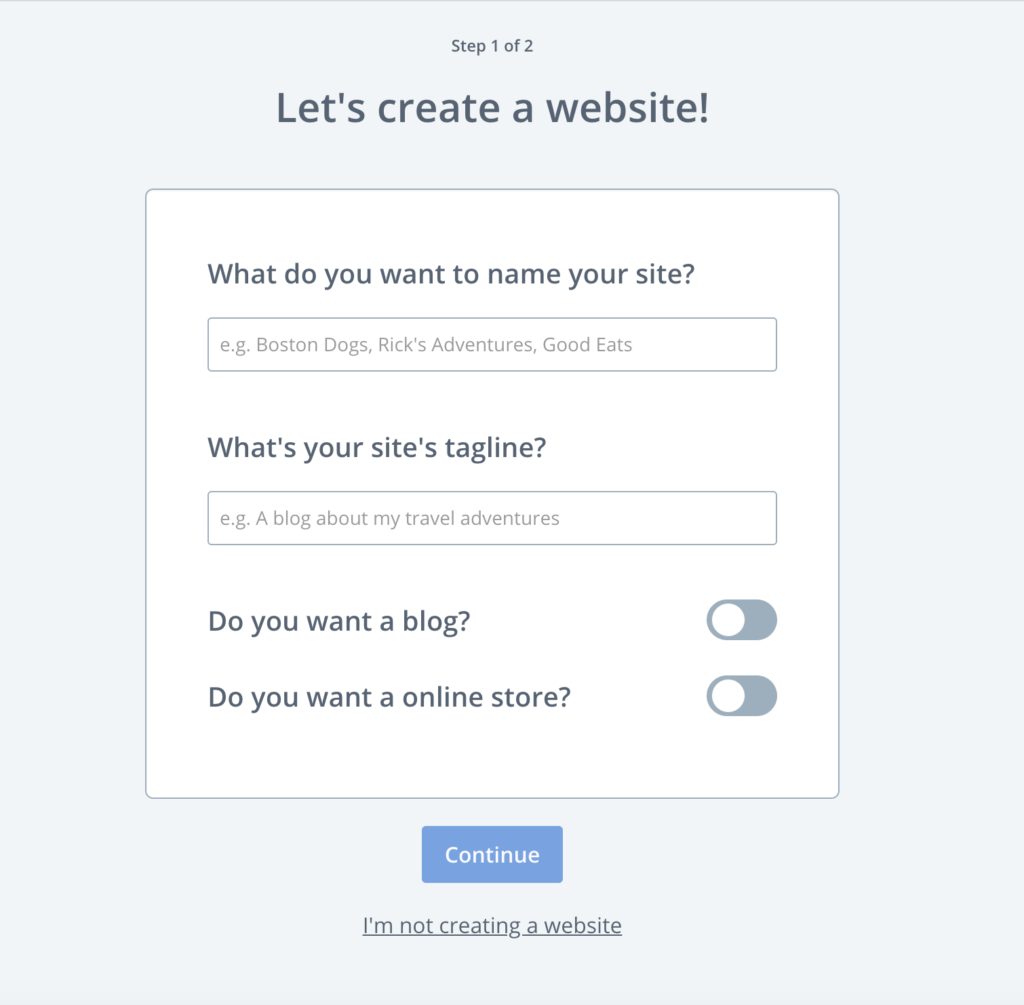 Name your website and give it a tag line. Wondering what to name your WordPress Website? Name your WordPress website the name of your blog or business. If you can incorporate a keyword related to what the site is about, even better.
If you cant manage to fit all of that, simply describe what your site is about or put your website's slogan in the tagline field.
The name of this site, for example, may be 'Bombshell Entrepreneur' and the tagline — "Helping women entrepreneurs navigate building, branding, and marketing a profitable business from scratch."
9. Pick your type of site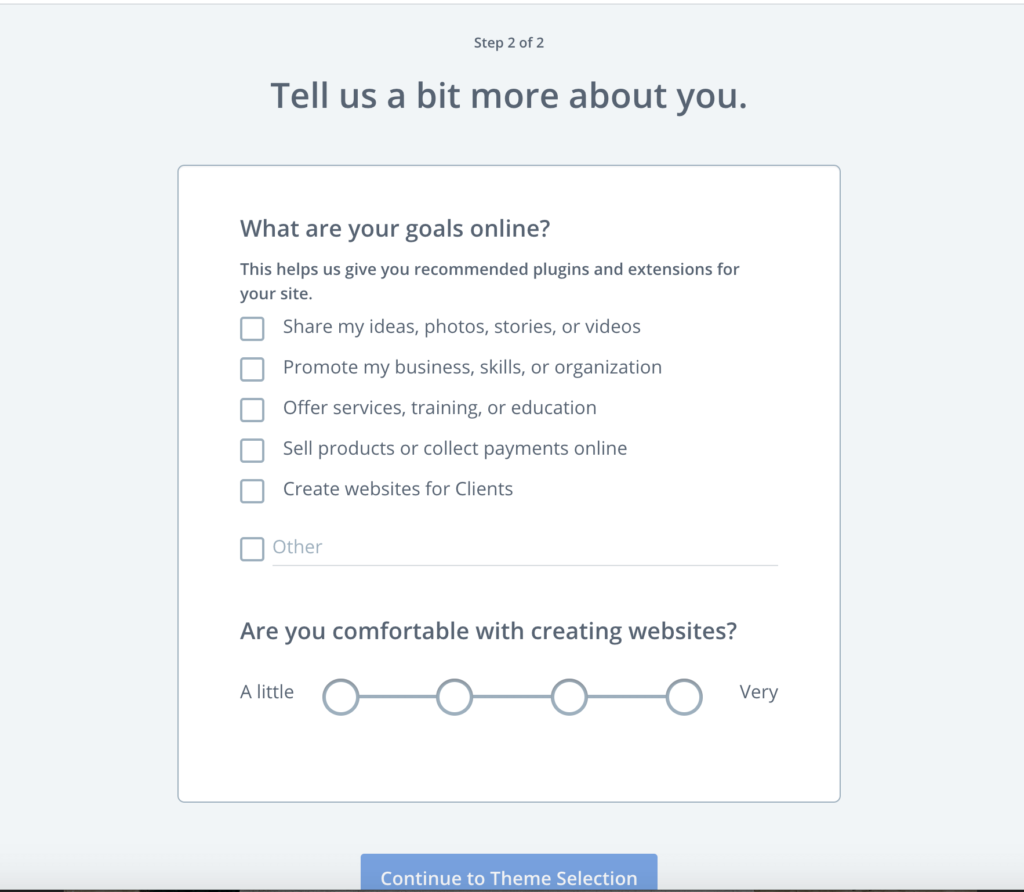 What kind of website or blog are you creating? Are you starting a lifestyle blog where you will share ideas, stories, and photos? Do you intend on creating an e-commerce focused website where you will sell merchandise or sell services?
Choose accordingly so that Bluehost can configure correctly and make the appropriate recommendations for WordPress plugins and WordPress themes for your new website.
10. Choose a Theme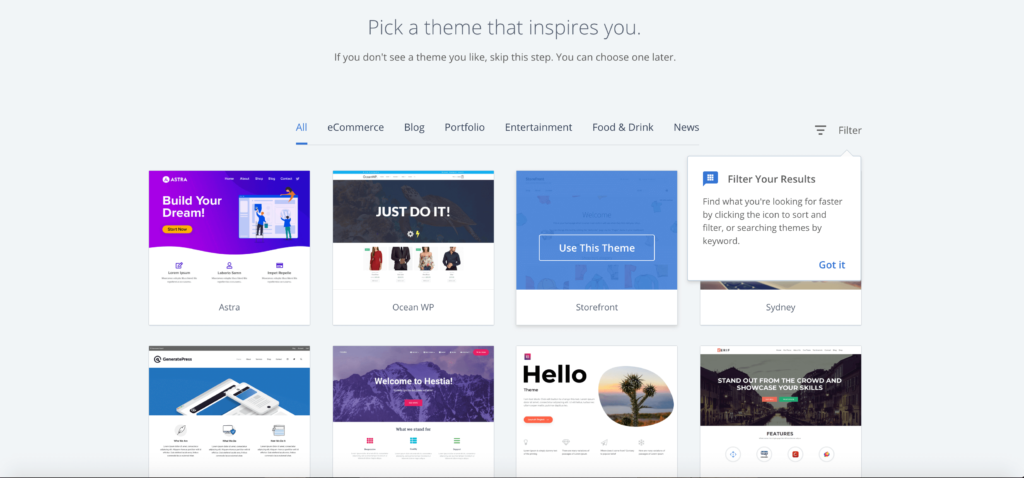 A WordPress theme is basically the design and style of your entire website. The colors, the fonts, everything aesthetic.
You may choose one of WordPress's basic themes to start. You can build any website you can imagine with free drag and drop website builder like Elementor. I personally use and I highly recommend Elementor to build beautiful websites.
During the Bluehost setup, however, I would skip choosing a theme just yet (or you can just choose any theme and change it later).
11. Bluehost C Panel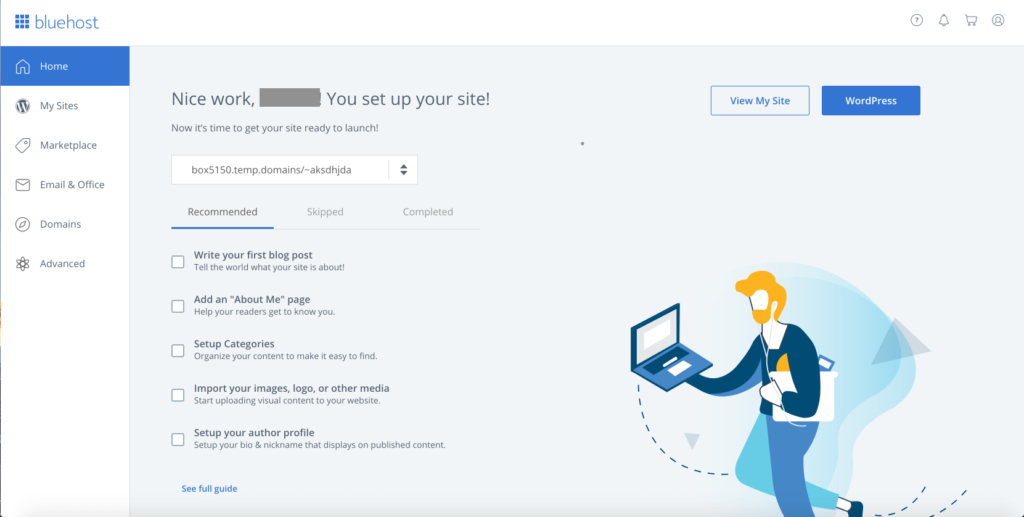 Congratulations are in order. You've successfully set up a self-hosted WordPress blog with Bluehost from scratch. Yay!
If you are a beginner blogger or WordPress beginner, take some time to set up some of the basic settings and familiarize yourself with the WordPress dashboard.
12. WordPress Tools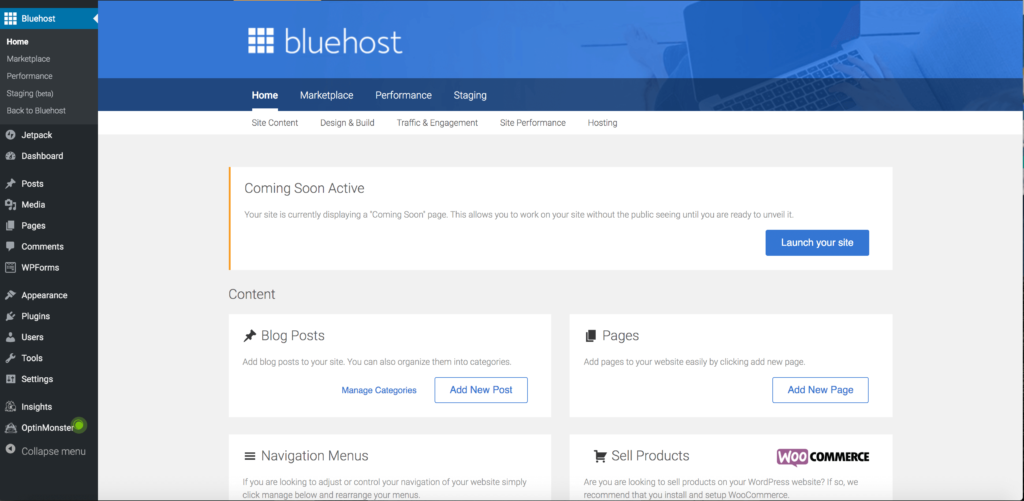 Once your self hosted WordPress set up with Bluehost is complete, Bluehost will automatically set your website to display a "Coming Soon" home page. Once you've got some content up and some essential pages like your About Page and Contact Page set up, simply "launch your site" to disable the default coming soon page and make your blog website live!
Now while you're WordPress set up is complete, not so fast. Before you hit the road running, I recommend you make sure all your ducks are in a row. In other words, check out the Blog Set-Up Checklist for WordPress to make sure you don't miss any crucial self-host bog set up steps.