If you've stumbled upon this article after searching "is Crypto 300 Club a scam" — hello there, welcome! I'm guessing you're in about the same position I was in roughly 3 weeks ago (from the time of writing this article).
NOTE: READ FULL ARTICLE TO THE VERY END!
Someone you know and perhaps trust has told you about this opportunity that sounds just too good to be true. So what's the deal?
What is this sorcery called Crypto 300 Club? Is Crypto 300 Club a scam?
If you're looking for definitive answers to these questions, you won't find them here. Remember I was just in your shoes a few weeks ago — searching for myself "is Crypto 300 Club a scam".
What I can offer you is an honest review of my personal experience thus far with the Crypto 300 Club. And with that said, make of my story what you will.
Signing up for Crypto 300 Club.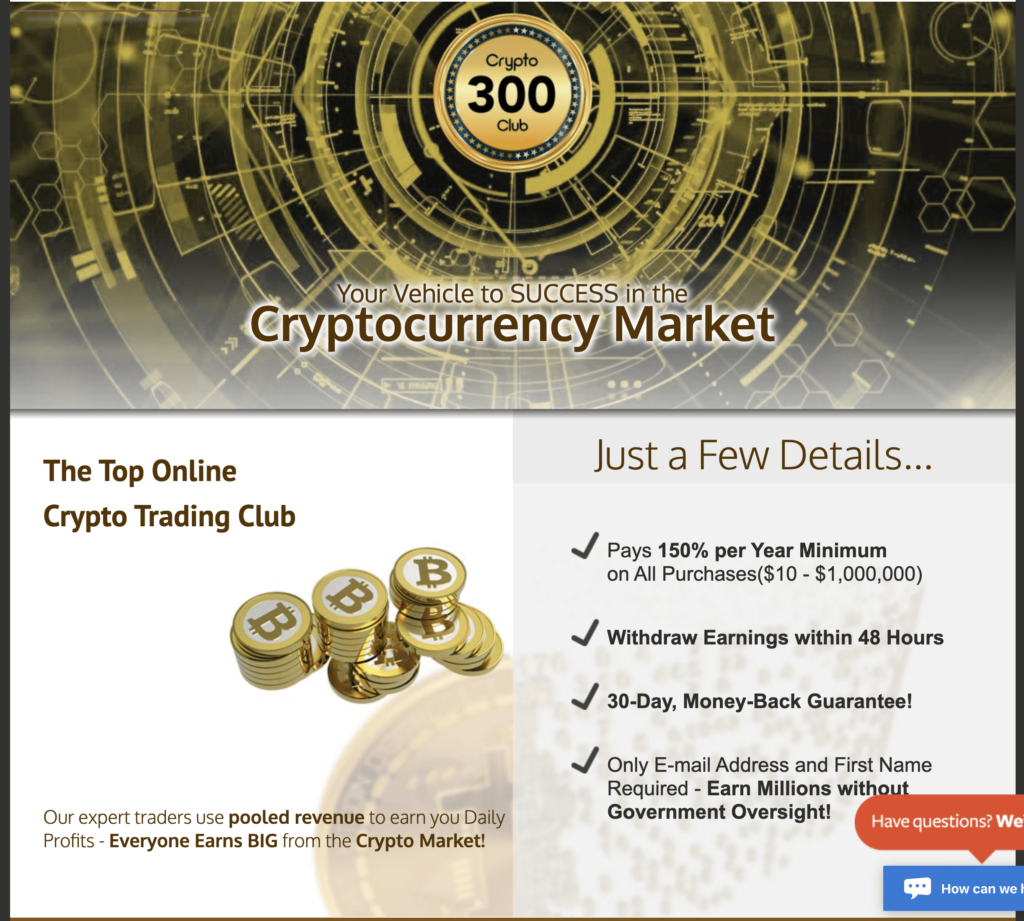 My boyfriend and I sat on our screened-in backyard porch one afternoon with my dear aunt — just relaxing and chit-chatting about all matters of life.
When the topic of money and investing came up, my aunt exclaimed "did you signup for the bitcoin trading yet"?
About two months before that afternoon on the porch, one of my cousins had shared some information about Crypto 300 Club in our family group chat. I scrolled past it, uninterested at the time. I passed it off as another multi-level marketing opportunity my super hustler cousin is always involved in (something I've never been very fond of).
"Nah, I think I'm gonna pass on this one auntie. I don't quite understand how it works".
"Oh my god Jen, you have to sign up for Crypto 300 Club! Everyone in the family is doing it and it works!" Her eyes lit up with excitement as she told us about it.
Basically, you put a certain number of dollars into "the club" via their website, and then like magic, in just a couple of weeks you get back what you put in plus a 50% profit. This 150% return on investment would be paid out in increments of 10% (depending on when in the cycle you invest).
Wait, what!? That doesn't make any sense I thought. How is this company able to accomplish this? How do they make the money to give to you? Do you have to sell something? Refer or sign other people up for the platform?
"No Jen, you dont have to do any of that. It's bitcoin trading, and it works!"
She might as well have been speaking Russian to me because I had no idea what the hell she was talking about. We spent the next few hours chatting about Crypto 300 Club and how she was using it to make big money.
Truth be told, by the end of our discussion, I still didn't understand the damn thing. But the way my aunt, cousins, and several other family members were going on about this Crypto 300 Club, I decided I'd give it a try.
My Crypto 300 Club experience.
Fast forward to today, and Crypto 300 Club has been working for me, just as my aunt had explained it.
My initial investment was $1990 (I intended to deposit $2,000, but fees to move the money from my bank account to my cash app, to Crypto 300 account ate a percentage of that money).
Every single day I log into the account, I'm able to "get paid" 10% of my initial investment until I've earned it back plus the 50% profit. I've since earned back my entire investment, and the 50% profit is still rolling each day.
What's even more fascinating is that with a brilliant reinvestment strategy, my aunt came up with, I've been reinvesting heavily and allowing the money coming in each day to compound interest and profit even more.
My crypto investing strategy includes the following.
1. Sign Up for Crypto 300 Club.
This is the platform that claims to pay you 150% return on your investment. In other words, put $100 in, get $150 out. Very important — puhleaasseee make sure that you understand how the platform works including reset, premium packs, and withdrawals before signing up. Overall, understand what you're getting yourself into.
2. Create A Coinbase Account and Cashapp Account.
These are the platform I use to convert my cash into bitcoin, transfer bitcoin between Crypto 300 Club and myself, and store my bitcoin before converting it back to cash and my bank account. Cashapp is great to get started but once you start transferring large sums of bitcoin, they can be quite limiting — hence the Coinbase account to boot.
Again, before you get into this, you need to understand that the game of bitcoin and cryptocurrency is a relatively new and largely unregulated industry.
And trading or mining or whatever the heck these crypto clubs do with your bitcoins is in a category of extremely high-risk/high yield investments for a reason. The truth is you could put all your money into Crypto 300 Club, Big Investor, or any of these other crypto clubs today… wake up tomorrow morning and the website has completely disappeared without a trace. This is not uncommon — and it's happened to me before (more on that in another post).
This opportunity is essentially gambling. So only put in what you can afford to lose. Period. And if and when you do lose, don't cry over spilled milk because it's just a part of the game. Take that and run with it, darling.
So is Crypto 300 Club a scam?
So far, for me, at the time of publishing this article — no. Crypto 300 Club is not a scam. How this experience will turn out in the end, who the people are that run this club, what they do in order to gain such profits for its investors, anything past my own experience — I couldn't tell you.
I'll be back soon with an update on my Crypto 300 Club experience once they have enacted the pending "reset". For now, fingers crossed, and stay fabulous!
*See comments for updated information!
IMPORTANT: My opinion has changed significantly!
UPDATE November 19, 2020:
At this point, I would NOT recommend people start with Crypto300. It has been my experience that they pay out until you have some of your money, then they stop. Your withdrawals sit in pending until they are canceled just after the reset. And then it seems they want you to continue putting money in, and that's the only way you can get your money out. Makes no sense to me.
Should anything change I will update this review. But again, at this stage, I do NOT recommend or endorse Crypto 300 Club.
If you want to legitimately invest in crypto. I recommend looking into the following channels on YouTube.
Our Rich Journey
Earn Your Leisure
Wall Street Trapper
Dr. Boyce Watkins
I suggest buying on legitimate platforms like Coinbase for crypto and Fidelity for stocks and holding your assets' long-term. As for quick money, I can't lend any insight and I would be wary of things that sound just too good to be true.