Did you know that for many aspiring bloggers and entrepreneurs it can take several weeks, even months, of precious time to set up and launch a new blog or website? Especially so if you're setting up a new blog or website from scratch using WordPress.
WordPress is awesome. It's the best and most powerful website platform there is because it allows you the freedom to build any kind of blog or website you can imagine.
But the truth is, setting up a self-hosted WordPress blog or website from scratch can be a tedious process.
I don't want you to fall into that trap.
Five months from now, when you're asked "hows that new business idea coming along", I don't want you to be forced to confess, "oh, I'm still working on the website".
That's why I'm going to show you step by step how to start a WordPress blog from scratch, effortlessly. After you've started your blog the right way, you'll be perfectly positioned for blogging success!
I've got your back.
Over the past 5 years, I have set up countless WordPress websites and blogs from scratch. And in this guide, I'm going to walk you step by step through the entire process. No stone left unturned.
I promise to make this guide comprehensive, straightforward and jargon less. And by the end of it, you'll have your WordPress blog completely set up and ready to go.
Everything you need to know to set up a solid WordPress blog from scratch is right here in this guide.
Bookmark this article, pin it to your "blogging" board on Pinterest, print it out if you can, and take your time crossing each task off the checklist, one thing at a time.
Are you ready to begin? Let's do this!
PIN ME TO YOUR BUSINESS IDEAS BOARD ↓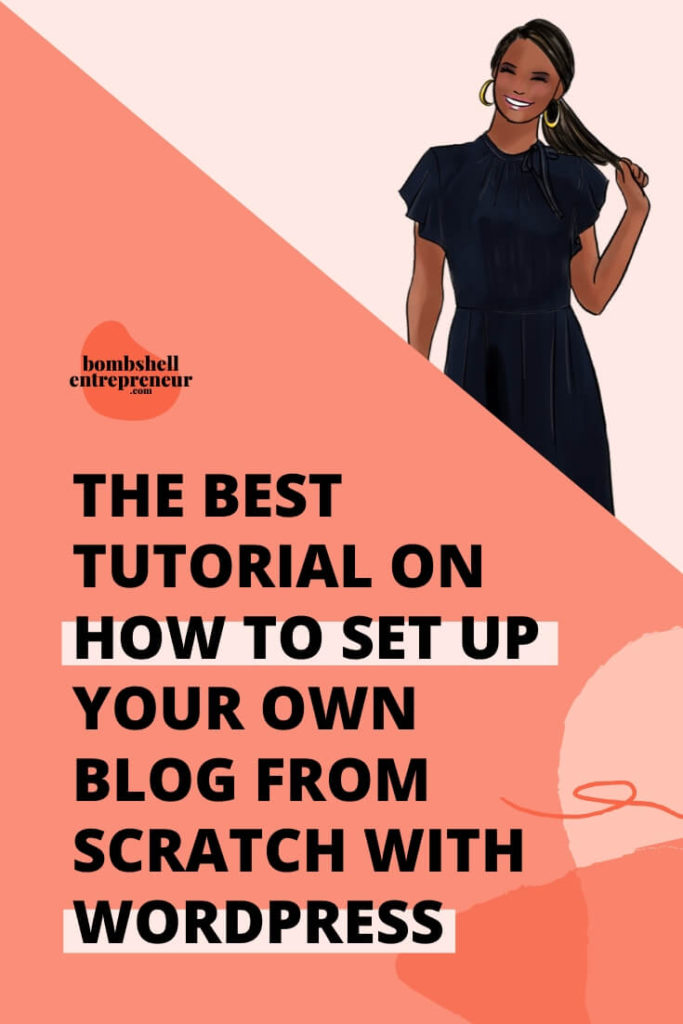 Hosting and installing WordPress.
1. Choose your WordPress hosting provider.
Because WordPress is a "self-hosted" blogging platform, you'll need a third party company to "host" your WordPress blog content online.
How to do this: Bluehost is the hosting service officially recommended by WordPress. Bluehost is trusted amongst many of the biggest and most successful bloggers. And I have personally used Bluehost for years to host all of my own websites.
I can attest to super fast hosting speeds, and excellent customer service every time I need them. That's why I use and highly recommend Bluehost.
2. Install WordPress.
You need to "install" or connect WordPress and your hosting service for the two to work together.
How to do this: Another reason why recommend Bluehost, is because when you sign up with Bluehost, you'll get a one-click WordPress installation.
2. Register your domain name.
If you're something like me, your domain name was probably one of the very first things you secured when you decided you wanted to start a blog. That's totally fine. You can easily connect your domain name from GoDaddy for example (or any other company) to your WordPress blog via Bluehost.
How to do this: You'll do this in your Bluehost dashboard. If you haven't already, get a free domain name for your blog with Bluehost ($15 Value)!
3. Enable your SSL certificate.
You need an SSL certificate to secure your website. This is super important for your website visitors.
How to do this: As if Bluehost wasn't awesome enough — when you sign up with Bluehost, you'll get a free SSL certificate! In your Bluehost dashboard, go to My Sites » Manage Site » Security tab » enable your free SSL Certificate.
Check out this special promotional offer for my readers:
Get discounted premium hosting, one-click WordPress installation, a free domain name, and free SSL certificate for your blog. Start your blog today with Bluehost!
Blog theme design and essential pages.
4. Install a responsive drag and drop website builder theme.
A beautiful, easily customizable, mobile-friendly website is incredibly important.
How to do this: I highly recommend Elementor.
Elementor is more than a WordPress theme. It's a drag and drop website builder. And Elementor is by far the best, most easy to use, and powerful drag and drop website builder available today.
Elementor is awesome because it has a lot of the essential marketing functionality you need your blog to have, like pop-ups to build your email list, forms for people to easily contact you, and so much more — these features are all built right into Elementor.
Elementor is always adding cool new and cool features to beautifying your blog super easy.
Elementor is what I have used for years to build countless beautiful WordPress blogs and websites from scratch. Including this blog you're on now, and this blog too.
You can easily design a beautiful website AND all of the following pages using Elementor!
Check out all the awesome features you'll get when you design a beautiful blog with Elementor.
5. Design your homepage.
When I first started my blog, I spent months perfecting the design. In retrospect, I should have been focusing on more important aspects of blogging and business, like creating great content and getting people to the website.
6. Design a global header & footer.
7. Design your single post layout.
8. Add content in the sidebar.
I recommend using the sidebar section of your blog posts to personalize your blog with a short bio about you. You can also use the sidebar for displaying recent posts, social media links, popular comments, an email signup box, and more.
9. Design your single-page layout.
10. Create your about page.
Visitors of your website will want to know who you are and what your blog is about. Create an about page that tells them!
11. Create your contact page.
Visitors may also want to contact you directly. Create a simple contact page with a simple contact form. You may also simply display the best email address to reach you.
12. Design your 404 Page.
13. Design your newsletter or freebie opt-in.
Start building your email list by giving visitors the opportunity to give you their email address. Do this with a pop newsletter or freebie opt-in form.
You can create all these essential pages and more when you design a beautiful blog using Elementor.
Marketing and other essential plugins.
14. Connect to email marketing service.
You will absolutely need, although not necessarily right at the start an email marketing software to collect your email address and send emails to your tribe when you're ready.
How to do this: I use and recommend Active Campaign.
15. Install SEO Plugin.
If you're a beginner blogger, know that implementing a solid SEO strategy is crucially important to the success of your blog. If you're clueless about what SEO is or how to do it properly, I recommend you take an excellent SEO Course ASAP. (#comingsoon)
How to do this: To start implementing a solid SEO strategy properly from the beginning, I use and recommend the Yoast SEO Plugin. It's free!
16. Add Google Analytics.
Google Analytics helps you track your visitors and see on what page they enter and how they behave once they are on your blog.
How to do this: To install Google Analytics and keep track of the data, I use and recommend MonsterInsights. It's absolutely free.
A word of advice.
If you've made it this far, you're already ahead of the game on setting up a solid WordPress site.
When I started my blog I spent months setting up my site? I wasted so much time learning how to navigate WordPress. Figuring out how to connect everything and make everything work. Perfecting the site design.
If I were starting over, I wish I could have spent far less time setting up and perfecting my website. I'd instead focus as much of my energy as possible on creating excellent content and getting visitors to my site, and NOT fooling around with WordPress.
A special offer for you.
For many of the essential WordPress tools I mentioned, I personally use and endorse it as an expert partner. And so for my readers, I've put together I special offer to help you get your WordPress site up and running quickly.
If you Sign up for your new Bluehost account with my special partner link — I'll set up your WordPress website, install a premium Elementor theme, install all essential plugins, and take care of all things tech so that you can focus your energy on writing blog posts. All this, absolutely free!
So to recap…
With my special link, you'll get Bluehost discounted for just $3.95 per month! You'll also get a free domain name ($15 value) + Free SSL Certificate, and unlimited bandwidth.
Bonus # 1: I'll set up your WordPress website. ($297 Value)
Bonus #2: Install a premium customizable Elementor theme to get you started, which includes your home page, about page, contact page, 404 page, global site header and site footer ($397 Value).
Bonus #3: To sweeten the deal, I'll install all essential plugins for you and take care of all things tech so that you can focus your energy on writing your blog posts! ($197 Value)
To claim this special offer.
It's super simple. All you have to do is:
Sign up for your new Bluehost account with my special partner link. (It's the same link throughout this post).
Once your request is complete, your blog and domain will be up and running within 72 hours.
It's a pretty sweet deal!
---
If you prefer to DIY your WordPress install and use my special link, you'll still get all the added freebies, I'll send you another extra special bonus, and I will personally help you with set up or any related questions you may have via email. Please shoot me an email with the subject line "BLUEHOST SIGN UP FREEBIES", with a screenshot of your receipt to the following email address: bombshellentrepreneur@gmail.com
That's all! Welcome to the world of blogging bombshell. Looking forward to seeing you inside the exclusive content area!
PIN ME TO YOUR BUSINESS IDEAS BOARD ↓